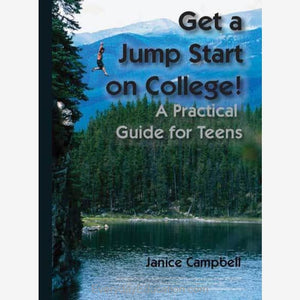 Get a Jump Start on College ebook will show you how to:

save thousands of dollars on college
add instant credibility to your high school transcript
motivate bored teens to take charge of their learning
give your student success tools for life
--
Benjamin Franklin wrote, "Dost thou love life? Then do not squander time, for that's the stuff life is made of." The high school years are short and precious, and you can help your teen make the most of them by getting a jump start on college while still in high school. The Get a Jump Start on College ebook will help you do it.

Why earn college credit while in high school?
Teens who earn college credits during the high school years tend to be way ahead of the game. Not only do
college grades on a homeschool transcript add credibility to the transcript
, a student who earns college credit early has extra options for the future. Once they've graduated from high school, they can 
continue with college and finish in two or three years;
take extra upper-level classes (the really interesting ones);
stop at an Associate's degree and start trade school;
start a business and make it profitable before they need to support a family; 
or any combination of those options!
Getting a jump start on college can be a great motivator
Earning college credits and the goal of early high school graduation can motivate and focus a busy teen in a way I would never have imagined. Suddenly, schoolwork has real meaning, and there is a tangible reward for the time they spend.
Earning college credits gives students immediate feedback on the quality of their learning. It shows they are motivated and willing to challenge themselves, and that's a terrific way to earn the respect of peers, mentors, and often college admissions departments.




"Homeschoolers do things differently, and college is no exception. The brick-and-mortar college is only one option among many.




Homeschoolers are leading the way in distance education, combining proficiency testing with other options to tread a more affordable, family-friendly approach to higher education. Janice Campbell helps us walk this path with confidence, giving us the benefit of her experience, along with charts and checklists to guide every step.




Don't consider college until you investigate Ms. Campbell's book, Get a Jump Start on College; A Practical Guide for Teens"!
Christine Field, author of Help for the Harried Homeschooler, Homeschooling the Challenging Child, and others
With the Get a Jump Start on College ebook, your teens have a head start on life (and save $$)
I've been fascinated by the idea of early college ever since I heard of the Swann family, whose 10 children earned bachelor's degrees at age 15 and master's degrees at age 16, all from the comfort of home. Compare that with the average 16-year-old who is looking at six more years of school just to finish a bachelor's degree! And that's not even mentioning the fact that earning college credits independently can save you thousands of dollars.
I didn't want the boys to earn their entire degree at home, but I could see that there were huge advantages to getting a jump start on the future. College credits add tremendous credibility to a homeschool transcript. They show academic ability, motivation, maturity, and so much more. I knew my boys were academically up to college-level work, but they definitely weren't socially ready to be immersed full-time into the college scene.

Earning credits independently allowed us to keep homeschooling as long as we wanted to, while still meeting their academic needs. And quite frankly, it was fun. So I wrote this book to make it easy for you to do the same. I hope you enjoy it!

"I just had to let you know that your Get a Jump Start information has already saved our family thousands of dollars in college expenses. Thank you so much!" 
Mary Lou R., Homeschool Mom, VA

What's In Jump Start?

Introduction

Early College: Why Bother?

What Does It Take To Earn A Degree?

Can You Get A Quality Education From Home?

Read Widely, Learn Deeply

How to Earn College Credit Non-Traditionally


Action Steps You Can Take Today


College-Level Exams

*Smart Tip

Choose Your Exams


Action Steps You Can Take Today


Portfolio Credit


Action Steps You Can Take Today


Take a Class!


Action Steps You Can Take Today


Choose Your College

Choose a Major


Action Steps You Can Take Today


Apply For Financial Aid
 How to Apply
 *Smart Tip


Action Steps You Can Take Today


Create A Degree Plan

Skills You Need to Master


Action Steps You Can Take Today


How to Review For College-Level Exams

Study Tools

Study Steps

Resources

Available Exams

Reproducible Worksheets

The Jump Start Checklist