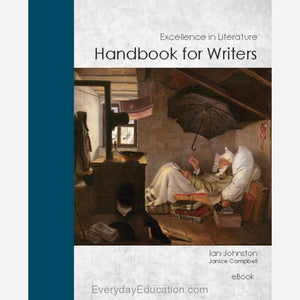 The Excellence in Literature Handbook for Writers ebook is a unique one-stop reference for how to write essays, as well as a guide for punctuation, style, and usage.
Downloadable ebook; 420 pages
--
Finally, a writer's handbook that goes from high school into college!
Need to know how to create a topic outline for an essay?
Wondering whether to put punctuation inside or outside the quotation marks?
Looking for a handy guide to written arguments, paragraph structure, and basic mechanics?
The 
Excellence in Literature Handbook for Writers ebook
may be the reference book you've been looking for! This
420-page writer's handbook
has two primary sections. The first provides detailed 
instructions
 and 
models/samples
 for constructing arguments and writing essays, and the second part covers 
mechanics, 
including 
style
 and 
usage
. This is a reference book that can answer many of the questions your student will face in 
high school
 and 
college
 classes.
A few highlights from the Handbook for Writers ebook:
Detailed instructions for constructing a logical, interesting argument (focus) for an essay, debate, or research paper
How to structure different types of essays, paragraph by paragraph
How to use inductive and deductive arguments
How read thoughtfully and write about literature, including short stories, full-length classics, and poetry
Examples of topic sentence outlines for a variety of papers in subjects including social studies, public policy, and more

I think you will find the Handbook for Writers ebook a very useful part of your educational journey. It's helpful in English, classes, of course, but it's also useful for other writing and speaking your student will need to do through high school and college.
If your student studies debate, the chapters on constructing an argument are very helpful. In the essay section, the sample topic sentence outlines are like a blueprint for writing success. You can even use the Handbook as you evaluate your student's papers. This is truly a one-of-a-kind book.
The ebook contains the same text as the print book—all 420 pages of it!

You can see more information and the full table of contents on the description page for the print version.