Welcome!
You've reached Janice Campbell's Everyday Education bookshop for homeschool, private schools, co-ops, and people who love to read. We invite you to download our Newsletter and Booklist and enjoy exploring the site!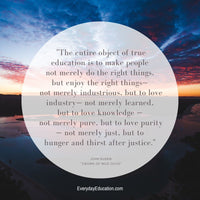 Welcome to Everyday Education!
Whether you are here to learn more about homeschooling or teaching classic literature to teens, or if you're just here to browse the bookstore — welcome. I recommend you start with the  Homeschooling with Literature and Living Books page, as it is designed to help you find what you need.  There's also a menu at the top of each page, with primary pages listed in bold. If you don't see what you're looking for, please email us at support@everydayeducation, and we'll be happy to help. 
Read more
Is Excellence in Literature the curriculum you've been waiting for?
Excellence in Literature offers self-directed courses based on full-length classic literature. Each study guide will help your student develop the reading, writing, and literary analysis skills needed for college and beyond. A new 4th edition is arriving in 2021 — some of the ebooks are already available!
Learn more
Need it right now? We offer ebooks, too!