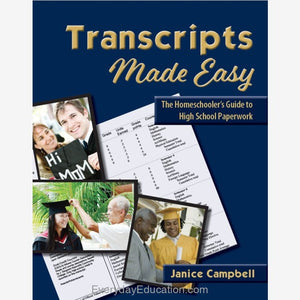 Transcripts Made Easy: The Homeschooler's Guide to High School Paperwork shows you how to grade, grant credit, create simple, effective home-school transcripts and high school diplomas, and keep simple records. Now in its fourth edition!

Trade paper; 8 x 10″; 136 pages; published 2018.
Your book - Transcripts Made Easy - is amazing!
My daughter is starting her senior year, and I just read your book cover to cover. 
I wish I had this book when she was in Jr High!  Thank goodness I have it now!
I've always been so overwhelmed by what to keep, what not to keep, what do I really need, how do I organize it....not to even mention grading. Oy!
Thank you SO much for sharing a clear, simple, easy to follow plan.
Your book is going to be my new gift to friends who start homeschooling!
Anna H, via email, August 2020
You know the time is coming when your homeschooled teen will need a transcript.
If you'd rather spend time with people than paperwork,
Transcripts Made Easy: The Homeschooler's Guide to High School Paperwork
is written for you! It's all you need to know about home school transcripts, high school diplomas, and simple record-keeping — all in one simple, affordable book. And now, it has been updated and expanded in a new fourth edition.
What can Transcripts Made Easy do for you?
— You can start homeschooling through high school with confidence when you have 
a simple system
 for tracking what your teen learns.
—You can rest easy about the college admissions process when you know that the transcript you've created will correctly and concisely convey your student's achievements.
—You can happily toss unnecessary busy-work, because Transcripts Made Easy takes the work out of paperwork!
I remember the day my 16-year-old said, "Hey, mom — I want to take some classes at the community college."
Although he had already earned some college credit through CLEP exams, I didn't know if I was quite ready to send him off to college! However, it really was the most practical way for him to take the higher math and lab sciences he needed in order to graduate, so we decided to start off with a couple of classes.
.
The problem was, 
the deadline for applying to the college was only days away
. I wasn't ready for this! I kept his high school records in a system of files and folders, but I hadn't consolidated any of it onto a transcript. That was on my "get-around-to-it" list.
.
I pulled out all the resources I owned on homeschooling through high school. Some of them were truly helpful in deciding what to study, but there wasn't any 
clear-cut instruction
 on how to create a homeschool transcript that would
present my student in the best possible way
to a college admissions department.
.
I wanted to see 
actual transcript samples
! I needed to know
 how to figure a grade point average,
 and 
how to grant credit
 for honors classes! I wanted to see 
how to include things like AP and CLEP exams
, as well as 
volunteer work
 and 
hobbies
.
.
There wasn't time to find the kind of instruction book I wanted, though, as the application deadline was looming. I made best transcript I could, formatted like my own high school and college transcripts, but it was at that point I realized that if there wasn't a good book on creating transcripts, 
I had to write it
!
"I would like to take the time to thank you so much for your book on transcripts. I found it an invaluable resource as we've applied to countless colleges and scholarship organizations. It helped us earn a National Merit Scholarship for our first son and has allowed us to assist our second son in receiving full college funding as well."
Alison, via e-mail.
So, just in time for my second son's college entrance, the first edition of
Transcripts Made Easy
was published. I found that high school paperwork can be pretty simple, especially if you start at the very beginning, and go step by step (isn't anything easier that way?).
I've shown you
how to start from the very beginning
of high school, but because of my own experience, I've also shown you
how to jump right in
and pull together a transcript when you weren't expecting to. If, like me, you don't want to spend any more time (or money) than necessary on record keeping,
Transcripts Made Easy
is for you.
Now, several years later, my sons are all grown and homeschooling is over for us, but the recordkeeping tools and techniques in 
Transcripts Made Easy
 kept me organized and focused to the end. When my third son announced, "Hey, mom — I want to take some classes at the community college," I was prepared.
Knowing what to do and how to do it
definitely makes the process more relaxing!
In short, Transcripts Made Easy takes the work out of paperwork!
I HIGHLY RECOMMEND purchasing Janice Campbell's book, Transcripts Made Easy. It is the BEST $$$ for homeschooling I ever spent! It is clear, concise, not wordy, or so thick a book you don't want to EVER tackle it! It was so absolutely wonderful . . . I cannot say enough about the valuable information!! I made both of my son's transcripts (using the Horizontal format with Microsoft Word) and they were so professional looking that I amazed myself!! I used these for both of my sons when applying for public school. This book . . . is filled to the brim with so much help!
I'd recommend purchasing this in the 7th grade year of your child's schooling or before so that you will be prepared with what you need because many students take high school subjects during their 8th grade year. I never planned to enter my sons into public school, but you never know what the future holds. It is much better to be prepared, and Janice Campbell has put this together to help us . . . it is absolutely wonderful!
(From a review by Pam Smith)
Did you know that
Transcripts Made Easy
is the only low-cost transcript resource that comes with
free e-mail support
from the author? You ask, I'll answer! (This means that if you have a question while working with the homeschool transcript, you can e-mail me, and I'll do my best to help you.) I want the transcript creation process to be truly easy for you!
You can keep all the high school records you need with less time and aggravation. You'll discover how easy it can be to:
 —Keep simple, accurate records
quickly and easily.
—Issue grades fairly and honestly, even if you haven't been using grades in your homeschool.
 —Grant credit for traditional classes, unit studies, work experience, and other activities.
—Award extra credit for honors classes, credit by exam, or dual-credit classes.
 —Calculate a grade point average, with or without weighted grades.
—Showcase your student's achievements with a professional, credible transcript that will "wow" admissions counselors.
 —Issue a diploma that's nice enough to frame.

We used the instructions in your book to make a transcript for my daughter. She used it to apply for a scholarship and also to several colleges. She is a finalist in the scholarship contest, and she has been accepted by two colleges so far. Thank you so much for your clear, easy-to-follow instructions!
Lizetta, via email
In the new fourth edition, you'll find:
— An overview of what your student needs to study in high school
— A new chapter on college alternatives
— Seven tips from Professor Carol Reynolds on what college freshman need to know
— An updated chapter on records and transcripts for special needs students
— Detailed, step-by-step instructions for creating beautiful transcripts using software you already own or can download free
— Reproducibles that make record-keeping easy
You'll turn to this straightforward guide again and again!


Hi Janice,  . . . I bought Transcripts Made Easy and started working on it 3 years ago for our oldest son and just sent the first transcript out to a college. My son is a senior this year. The lady in the admissions office called about some other information today and said she wished all homeschooling parents had it together like me. She really liked the transcript, she said she couldn't do that on her computer. Then I told her about your book and how great it was in guiding me through the process. I used Sample 2: Horizontal-format. I always tell people about your book because it cuts right to the chase. I have [another book] and all the info is great, but your book showed me how to put it all together on one paper.
Thanks for your help,
Ann & Dave, Colonial Heights, VA
Whether you are starting at the beginning of the high school years and collecting information as you go, or looking back and trying to remember what your teen studied when, you'll learn:
—Who needs a transcript
—What it's used for
—Exactly what to put on it
—The three basic parts of a homeschool transcript
—How to record honors and dual-credit classes
—How to assign credit for unit studies
—How to record credit-by-exam
—How to add automatic credibility to your transcript
—And even how to avoid creating a transcript at all!

"I was really nervous about making a transcript, but your book made it all seem so easy, and the transcript turned out looking great. Thank you!"
Nikita, via email
You'll appreciate helpful features such as:
 —Reproducible worksheets
for calculating credit
—Reproducible transcript forms
 —Step by step instructions for creating forms on your computer
—Filled-out transcript samples so you can see how it's done
—Free email support

"Transcripts Made Easy was terrific! I purchased it a year ago and used it to pull together my daughter's transcript. It was practical and to the point! Thank you for writing it."
Elizabeth, Dale City, VA
Transcripts Made Easy is available as an instantly downloadable e-book or an 8 x 10" trade paperback (136 pages). Either way, you can easily print out or photocopy the reproducible record pages for each student in your immediate family. If you're homeschooling through high school, I know you don't have a lot of time to spend keeping track of paperwork. Transcripts Made Easy is designed to make your life easier, and I'm sure it will.
"I appreciate that you don't use "educationese" in your work. I've been away from it for so long, and was annoyed by it when I was working toward my degree. It makes your work easy to undertand. I appreciate that!"
Andrea, homeschool mom
Transcripts Made Easy takes the work out of paperwork — order it today
Janice's Guarantee:
I promise that the simple instructions in
Transcripts Made Easy
, will help you manage your high-school paperwork and create a homeschool transcript you can be proud of. If you feel that TME has not delivered on this promise, you may return it for a refund. I want the best for you and your students!
"High school sort of crept up on me, and my son was halfway through when I realized that I should be keeping records.
"Your book has been a lifesaver, as the worksheets helped remind me what we had done. I just finished making his transcript, and my husband can't believe how professional it looks. I hardly ever use the computer for anything but e-mail, but your clear and simple instructions made it all so easy, even for a computer novice. Thank you!"
Lesley, homeschool mom of two
Other Comments on Transcripts Made Easy
Cindy of
Curriculum Choice
 posted a review of the previous edition. Here's a quote: "
Transcripts Made Easy 
is truly 
easy
to understand.  Even with 120 pages, it's a fairly quick read, too. Janice walks you through, step-by-step, how to simply and effectively keep academic records, how to turn those records into a GPA sheet, how to calculate credits and quality points, making adjustments for AP or college classes and how to make sure you are preparing your student for classes that meet state and college-bound goals."
.
Wendy Walker of
The Old Schoolhouse
magazine reviewed the third edition of 
Transcripts Made Easy
, and she writes, "This book is loaded with valuable information: calculating grade point averages, using portfolios, weighting grades, keeping records for special-needs students, recording standardized tests, and scheduling . . . Janice Campbell has a practical way of making paperwork seem manageable and end results appear professional."
Larissa McKay posted a helpful review at 
EclecticHomeschoolOnline
,
 and advises that "you will surely find 
Transcripts Made Easy
 to be a worthwhile investment in your future."
Thank you for stopping by! I know that 
Transcripts Made Easy
 will help you create an excellent homeschool transcript for your student, and I appreciate the opportunity to help you with this final bit of high-school paperwork. The high school transcript is an important document — it helps your student market his or her knowledge and experiences to colleges, the military, prospective employers, and technical school. 
Transcripts Made Easy
 will help your student make a strong, positive impression when it counts!
Here is a look at the table of contents, so you can see exactly what is included:
Part 1
Meet the Transcript
What is a transcript?
Who needs a transcript?
Who will see the transcript?
What are the parts of the transcript?
Overview of the Transcript Process
Where to Start in This Book
Part 2
Plan with the End in Mind
What to Study in High School
Sample High School Requirements
Skills and Habits to Cultivate in High School
Scheduling Courses
Sample Four-Year Schedule for College-Bound Students
Standardized Tests to Consider
Seven Strategies for a Successful First Year at College (Professor Carol Reynolds)
College Alternatives
Six Things Your Teen Can Do While Homeschooling High School
High School Q&A
Teaching Teens
Part 3
Keep Simple Records
High School Binder
Student Work Samples to Keep
How to Use Class Profile Sheets
How to Use Subject Worksheets
Naming Classes
Special-Needs Records and Transcripts with Judith Munday
Special Needs Resource Recommendations from Kathy Kuhl
Part 4
Grades, Credit, and the GPA
Grading Realistically and Ethically
Use Simple Credibility Clinchers
How To Grade Written Work
Writing Evaluation Rubric
Grading for Unschoolers and the Chronically Relaxed
Non-Grading Philosophy
Retrospective Grading
Define a Grading Scale
Assign Quality Points
How to Grant Credit
Granting Credit for Honors Classes
Granting Credit for AP, Dual Credit, or College-Equivalent Classes
Calculate a Grade Point Average
Part 5
Create the Transcript
How to Issue an Official Transcript
Transcript Formats and Examples
Horizontal Transcript Format
Vertical Transcript Formats
Sample: Vertical Transcript Organized by Subject
Sample: Vertical Transcript Organized by Semester
Sample: Vertical Format with Lines
Check-Off Transcript Format
Sample: Check-Off Transcript
High School Diploma Format
How to Create a High School Diploma
Text for Diploma
Part 6
References, Resources, and Reproducibles
Glossary
Resources for Planning and Learning
Reproducible Forms
.

Don't forget! This book also comes in an ebook edition, as well as a print and ebook bundle.